Book Review: A very different Christmas by Rico Tice
"So there you are, in heaven's living room with God on Christmas Day ..." 
Rico Tice takes an interesting approach to Christmas in his latest book. Instead of sitting down with Granny, Aunty Ethel and a mince pie in front of the TV to watch the usual festive specials, he invites you to swap gifts with some very special people this Christmas. Four people and four presents. God the Father, God the Son, God the Holy Spirit and you. What will they give? And what on earth can you give them? (Santa socks just don't seem appropriate.)
This book is short and is written with the easy-to-read style that Rico is known for. He rips right through the Christmas wrapping paper that we all are so used to, and gets straight to the heart of Christmas. 
"What will you do with the gifts God is offering you?"
The book is available form thegoodbook.com.
Resources for people living with Dementia
Following the recent Dementia Forum, we have put together a page of resources on dementia. Whether you want to know more about dementia, are concerned about yourself or some you care about, or are caring for someone with a diagnosis, you will find details of organisations, books, and Christian resources that we hope you will find useful.
You will find the page under Resources - Pastoral Resources or click here.
Summer Fair
Thanks to the Events Team for organising another successful Summer Fair, as well as all those that contributed to stalls and our visited on the day.
Last Saturday saw St Andrew's buzzing with bees, buns and bunting as we all basked in the summer sun at the Summer Fair. We welcomed visitors from the village and further afield with an array of stalls featuring everything from books and cup cakes to plants and ice creams. The obligatory bouncy castle was enjoyed by the children, as well as a traditional coconut shy and plate smashing stall! A competition to design a miniature garden was held by the Sunday Groups team, with winter gardens, bug gardens and flower gardens all created by our younger visitors. The weather was beautiful, so hot in fact that people were pleased to escape into the church to cool down and enjoy some delicious tea and cake.
Redmire 2015
Over 50 members of the St Andrew's church family headed up to the Jonas Centre in Redmire recently for a weekend full of Bible teaching, food, singing and all-round family fun. Whilst our friends back in Kirk Ella were being drenched with torrential rain (not that we were smug), we had fine dry weather (till Sunday at least) which meant we could enjoy an outdoor service, den building for the children, and river swimming for the brave and fearless.
Martyn led study sessions for adults where we looked at Psalms and thought about God as our rock and our King. The children headed outside to talk about the same thing and examine the beauty of God's creation (easy when you are in Redmire). We all enjoyed wonderful food, a great quiz, a walk to the river (including a fire and some pheasant roasting), and a huge bonfire complete with traditional sing-song and toasted marshmallows.
A great time was had by all and it was especially wonderful to see children of all ages having fun together and new friendships being made.
Watch this space for details of Redmire 2016!!!
Rock day in Ravenscar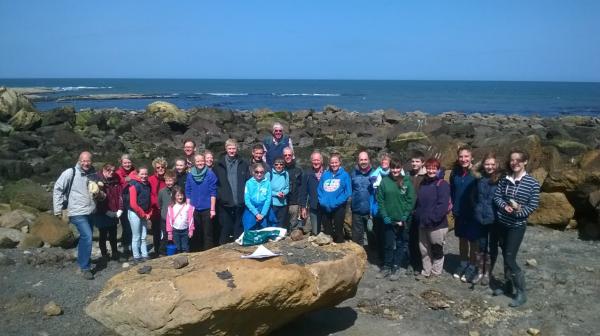 Members of the church family had a brilliant day by the sea in Ravenscar, discovering the geology of the area, and looking for fossils. Everyone found lots of great fossils - well done to the Deans for winning the Golden Ammonite prize! The weather was perfect and everyone managed the steep climb, even the dog!
Henry Olonga & Phil Sudell visit St Andrew's